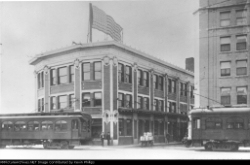 Welcome to the RRPictureArchives.NET contributor site of Kevin Phillips.

For the record, any old photos I post here are not mine personally, but rather in the archives of the City of Champaign, mostly given to us to be kept for the public as an historic record of our town. I share them here as a way of sharing Champaign's historical RR history with the world at large. The photographers have long since passed along, as well as some of the railroads, and all of them predate my birth. None were taken from anyone else's website, though we may have received our copies from a common historical source.


You may browse my collection of pictures via the menu located on the left hand side of the page. I hope you enjoy the collection and thanks for stopping by!
Note: This site is best viewed in Internet Explorer 6.0 or above.
Select one of the links from the menu on the left to begin browsing the collection.